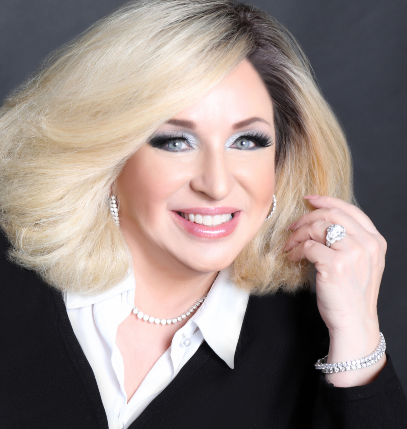 Tiffany Bayley is originally from Huntington, WV. She graduated from Marshall University with a degree in marketing.
Her first claim to fame was winning the title of Miss West Virginia and placing Top Ten in Miss United States. She jokes that you can market anything if you learn to market yourself first. Ms. Bayley has always been the quintessential entrepreneur, owning and operating her own business, since she was 17. In the late 90's up until around 2013 she owned over a dozen businesses. Two marketing firms, 8 jewelry stores, numerous paintball fields, a mini-golf course and even an ice cream shop. With a name like "Tiffany" it seemed almost like destiny that she would find herself in the jewelry industry someday! From the moment she discovered jewelry she knew it would be a lifelong love affair. As a child she would constantly play dress up covering herself in her grandmother's jewels. It was no shock to her family when her first job was in a jewelry store.
From the first moment she stood behind a jewelry counter, she knew she had found her passion. Those early years made Tiffany realize a career that could combine her love of all things sparkly with the chance to make others smile, was exactly what she desired.
During the worldwide pandemic when everything was closed Tiffany turned to Facebook Live as a way to stay relevant during interesting times, streaming from her showroom every other Friday afternoon. Tiffany's on-camera skills quickly made her an overnight sensation. Within a short time she was hosting her show weekly to thousands of viewers all over the country during prime time on Wednesday night. Tiffany will be taking her show on the road for the very first time this year. She will host Shop with Tiffany Live, from the largest jewelry show in the world, at JCK in Las Vegas, Nevada this fall. She has now built a huge fan base and customers love her over-the-top sense of humor, style and relatable personality.
When Tiffany is not on-air, you can find her still loving life behind the counter at her flagship store Avalon Park Jewelers in Florida. She says the most rewarding part of what she does is creating lasting memories. Providing that perfect piece for that special milestone event is such an amazing feeling. She still loves meeting new people everyday and cherishes the lasting relationships she has developed. Having the opportunity to be welcomed into a viewer's home she says is truly an honor and is more than she ever dreamed of. Ms. Bayley currently resides in East Orlando with her fiancé, her German Shepard Dante' and her cat Munday.